Restaurants
In Knin Commerce holding there are five restaurants,
on Belgrade territory. In our restaurants you can enjoy
in the best national cuisine, pleasant atmosphere
with the most quality service.


Motel

Motel "Šarić" is located on the edge of the popular
sightseeing place "Lipovac Forest", only 10km away
from Belgrade on Ibarska Main Road. It has seven
deluxe apartments. Within motel there is
restaurant with national cuisine.

more...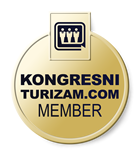 In all our restaurants we organize all
sorts of celebrations; cocktail parties, banquets
and of course weddings. Our restaurant Milosev Konak
is selected as the most popular place for organizing weddings. more...



Weddings












Adress: Hajduk Veljkov venac 4-6
Phone: +381 11 26 59 645
Phone: +381 11 26 42 537
E-mail: direkcija@knincommerce.co.rs

more...

Contact